by Maria K Todd, MHA PhD
Founder and Executive Director
The Center for Health Tourism Research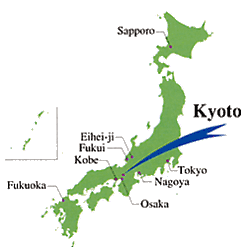 One of the most well-preserved cities in Japan, people from all over the world travel here for shiatsu (a type of massage), aquatic therapies at thermal springs, and regenerative medicine stem cell therapies for osteoarthritis administered in small private clinics operated by our Approved Providers.  Kyoto is a charming and historic city in Asia where you can step back in time. Japan's imperial capital hosts 10th century temples, Shinto shrines and nearly 100 Michelin-starred restaurants.  The contrast from Tokyo is striking. I thoroughly enjoyed our team's visit to Kyoto, despite cold and rain in January.  When the cherry blossoms are in bloom, don't expect to get a room or an appointment for stem cell injections unless you've planned well in advance of your arrival.  
Stem cell injections for osteoarthritis
The largest stem cell banking operation is in Korea, but the stem cell administration is performed in Kyoto due to legal restrictions in Korea. Your local plastic surgeon can harvest your cells in the USA and send them to Korea for growth and banking. A special transfer box is necessary, and we arrange that for you in advance. Then, after a few months of stem cell growth, you travel to Japan to have your own cells injected by intravenous infusion and injections at the site of your problems. Cells are tested and identified by various methods to ensure that you receive your cells back, and not someone else. The growth lab and bank have all the international quality certifications for processes and handling.
Stem Cell Treatments in Japan
The cell administration process is completed over the course of a few hours, and you may spend one night in the clinic.  Our approved provider in Kyoto sends an interpreter to the clinic with you. On our inspection tour, the clinic was spotlessly clean, nurses were friendly and engaging, and the doctor was affable. But don't expect all the glitz and opulence you read about in medical tourism articles. Be prepared for functional, clean, and straightforward service. Rooms are semi-private with two beds and quite small. One person can accompany you in your room on a little stool to the side of your bed. 
Kyoto for Medical Tourism Visitors
What not to miss
People come to visit the bamboo forest at Arashiyama and see young geishas walking in traditional dress at historic villages, drink Inoda coffee, and visit ryokans (a type of traditional Japanese inn that originated in the Edo period (1603–1868), when such inns served travelers along Japan's highways and are located at or near natural hot springs "onsen ryokan") that are 200 years old. 
More than just a place to sleep, ryokan are an opportunity to immerse visitors in traditional Japanese lifestyle and hospitality. They invite visitors to experience tatami floors, futon beds, Japanese style baths and local cuisine, making them popular with both Japanese and foreign tourists alike. Because it was once the imperial capital, Kyoto is well known for kaiseki, the traditional multi-course meal that changes seasonally. For an authentic kaiseki meal without Michelin prices, make a reservation at 200-year-old ryokan Kinmata. Its restaurant serves impeccably presented dishes, such as eggplant with chestnut and tofu skin and delicate cuts of sashimi. Grazers would do well to wander the stalls at nearby Nishiki Market, where you can nosh on tsukemono, (Japanese pickles) skewered octopus, and miniature soy milk donuts.
Don't miss the Geisha district in Gion, or the temple Shunkoin, where Rev. Takafumi Kawakami leads daily meditation classes and temple tours. Kawakami, who is a Kyoto native, spent eight years in the U.S. and now teaches sessions focused on mindfulness. American Richard Steiner, who has been in Kyoto for 40 years, holds woodblock printing workshops in his traditional-style home. Ten minutes' walk north of temple Kiyomizu-dera, Kashogama Pottery School hosts fun ceramics classes, with the finished product arriving by mail roughly three weeks later at your home.
Tea Ceremonies
Canadian tea master Randy Channell offers tea workshops at his downtown teahouse, Ran Hotei. Take a tea class, and then taste test a few varieties before snapping up some tins to take home. A stone's throw from Kyoto Station, Tea Ceremony Room Juan offers well-priced tea workshops in English that can be booked easily online.
Sake Tastings
If your medication won't conflict, a visit to the Gekkeikan Okura Sake Museum; at ¥300 admission, including two small bottles of sake, this is the best deal in Kyoto. The Yamamoto Honke Brewery, which has been producing sake since 1667, runs brewery tours in English, complete with samples and the option to take a sake-cup making class. OZU, which opened autumn 2014, runs sake tastings and seminars where you can sip sake and tea and nibble on wagashi (Japanese tea sweets) while hearing from cultural ambassadors, designers, and tea specialists. Just south of Nishiki Market, inside a low-lit traditional Kyoto house, is Madoka (+81-75-221-1187). There are just eight seats at the first-floor bar (and more upstairs), behind which you'll find a selection of unpasteurized sake, or namazake. Pair a tasting flight with izakaya standards like broiled mackerel. True sake novices would do well to visit Jam Bar. That it's in a hostel shouldn't be a deterrent; there are some 70 sakes in stock, with options like ginger- or yuzu-infused sake.
Walking Around the City
Kyoto is a lovely place to visit, but you must be able to walk long distances and ascend and descend stairs and hilly terrain to experience many of the attractions if you plan to manage on your own. Make sure you take a camera in any season.
For anyone suffering knee, hip ankle or back pain, opt for activities you can accomplish in a car with a tour guide.  Unlike the USA and other locations where wheelchairs are abundant, that's not the case we found in Kyoto. If there were wheelchairs available, they were so small that most only fit children, not the average American adult.
Using the Japanese Trains
Train travel is the most popular way to get around Japan and for a medical tourism visitor with ambulation problems or low back pain, a wheelchair it is a necessity. Bring your own or rent the proper size wheelchair for your personal needs before you leave and take it with you.
Train stations are resources for information, food, water, public restrooms, navigation and even shopping for pretty much anything. Every station has maps displayed to what lines are available and what area is covered as well as information booths that have maps you can take in English or whatever language you prefer showing the train routes and tourist attractions in the area. There is usually at least one person working that knows a little English if you have more questions. Train attendants are there to assist and speak some English.
The train system is very complex but stations color code everything and have signs with either a universal symbol and/or English translation to make navigating as easy as possible. You'll find tactile paving (truncated domes) on the floor to help you find an elevator, so just make sure it is the right color/platform.  99.9% of the population do not use elevators in the stations. Some elderly people and mothers with strollers or big luggage do but more often than not, even the elderly climb stairs.  This means that you'll rarely wait to for an elevator with room for you and your wheelchair. To access the station's concourse, sometimes you may use an elevator to access from the street or inside a building. Some escalators are wheelchair accessible.
At every station kiosks are available to purchase train tickets, including day passes. Some kiosks have an button that explains what to do in English. Depending on the height of your wheelchair, you may have difficulty reading directions or reaching, so get an attendant to help if needed. If  you plan to move around a lot, the most efficient way to ride the trains is to purchase some kind of pass or prepaid card. The JR Rail Pass, includes the Shinkansen, express trains, buses and more. One just then needs to flash this pass instead of giving the station attendant a train ticket. You can purchase a 7, 14 or 21-day pass online in advance and pick it up at a ticket office. It does not activate until you use it.
Inexpensive Therapeutic Massage
Shiatsu massage is not one "thing", per se. People use the term generally to indicate massage techniques practiced in Japan. In Japan, you'll find acupuncture and moxibustion like that which is offered throughout China. Another technique, Anma is a whole body massage used to treat muscle fatigue, improve circulation and adjust your "body balance" or energy. Anma is an excellent choice upon arrival from long international flight.  Classic Shiatsu technique helps nerves to calm down and is good to relieve pain.  Reflexology is a massage without oil, often done on the hands and feet, and is often helpful for blood and lymph circulation, and to relieve stiffness and stress.
We found 1 hour massages for $5 and 2 hour massages for $10, 3 hour massages for $15 (excluding tax). One of the post popular massage therapy centers in Kyoto with well-trained therapists is Hiyoshi. To make an appointment dial 075.561.1460. Appointments are available from 1pm to 1:30am. The receptionist is available at noon. You can go to their clinic, but they will also send a therapist to your hotel. At the clinic, expect that you will be in a room with other people also receiving a massage. This is quite common throughout SE Asia.
Local Kyoto Cuisine
We found an abundance of little restaurants tucked into what appeared to be a house from the sidewalk. Inside, little restaurants have seating for 15-20 people. Tipping is not customary. In one small restaurant, we left a small tip anyway and the waitress chased after us to return the money.
In Japan, there are many inexpensive options for dining.
Ramen shops are a delight and very inexpensive. You'll find various broths from which to choose and all kinds of ingredients mixed in.
Sushi was abundant, fresh, and the best deal we found was at the train station in Kyoto. Sushi is prepared while you watch inside the center ring. Tables are configured counter-style with a conveyor belt that circles around the counter. You choose what you want and pay for what you select according to the color of the plate. Usually the prices with the plate colors is on the wall.
Teppanyaki is a grilled or fried method preparation. The word teppanyaki is derived from teppan, which means iron plate, and yaki, which means grilled, broiled, or pan-fried.
Okonomiyaki is a Japanese savory pancake containing a variety of ingredients. The name is derived from the word okonomi, meaning "how you like" or "what you like", and yaki meaning "grill". A variety of sauces are added to the top of the pancake. Usually, the pancake serves more than one person.
Yakitori is a Japanese type of skewered chicken. The preparation of Yakitori involves skewering the meat with kushi, a type of skewer typically made of steel, bamboo, or similar materials. Afterwards, they are grilled over a charcoal fire. These are often served with Mirin.
Tempura is a Japanese dish of seafood or vegetables that have been battered and deep fried.
Yakisoba, literally "fried buckwheat," or sōsu yakisoba. In Japan, it is served as a variant of fried or grilled noodles. While most people in the US know the term "soba" to refer to buckwheat noodles, soba has historically referred to any long, thin noodle. In the case of yakisoba, it's actually made with ramen noodles. In Japan, yakisoba can be found sizzling away in stalls everywhere from baseball stadiums to traditional omatsuri (festivals). Find it by the smell of the fruity, spicy sauce (sosu) caramelizing on giant teppans (cast iron griddles) with the noodles.
Food Allergy Alert
While most Japanese cuisine is considered healthful, be sure to enquire about ingredients because the Japanese tend to use fish flakes, wheat products, tree nuts, egg, and ginger in abundance.
Staying in Ryokans
The average cost of a ryokan stay is between USD $300-500 per couple, per night. While this may be too expensive to stay at everyday, it is well worth indulging on one special night during your travels. Also keep in mind that ryokan stays usually include an elaborate dinner in the evening, followed by breakfast the next morning. Meals are typically kaiseki ryori (Japanese traditional cuisine) that feature local and seasonal specialties.
Local Hotels
We found the Crowne Plaza Ana in central Kyoto a convenient distance to the clinic, walkable to restaurants and attractions, in close proximity to the train from Osaka airport, and comfortable for American tastes. A breakfast buffet and several restaurants are available onsite. Beds and bathrooms are western style, bathroom has an electronic bidet.  Room prices were affordable and you will earn Intercontinental loyalty points if you book directly with the hotel or through Intercontinental.  The hotel will arrange to pick you up at the train station as a courtesy if you use the train from Osaka airport. Our travel planners handle all these details for our clients.  
Getting Around Kyoto
Taxis are abundant and can be hailed almost anywhere you see one that is available.
Cultural Notes
Always keep a small gift in your belongings whenever you travel to Japan. This is actually a fine Japanese etiquette in give a gift when meeting someone new. It doesn't have to be anything extravagant or expensive, but a courteous token as a gratitude to meeting each other.  Think of your interpreter, your nurse, your doctor, and perhaps your driver if it is the same one all the time.  Wrap gifts in red paper.
Always send a thank you note to your local organizer after your trip. You can do it in your hotel and send it from Japan. The hotel concierge or front desk will help with postage and verify the address for you. These bits of delicate gestures really serve in a way to draw relationships closer in a understated and elegant manner.
When I go I take little watches specifically designed for nurses, or a little USB drive shaped like a doctor for the doctors and others. These gifts are little more than useful and functional trinkets. They don't cost much, but the gesture and thoughtfulness creates excellent goodwill.
Maria Todd is a trusted adviser and expert specialist to hospitals, clinics, governments, healthcare business owners, investors, and independent professionals. Clients call on her to help them do a better job of marketing, branding, or contracting with insurers and employers, and to grow their business.
Maria is the CEO of Mercury Healthcare International, in Denver, Colorado and the founder of Mercury Health Travel, the leader of the Health Tourism Practice Group of Mercury Advisory Group, the Executive Director of the Center for Health Tourism Strategy, its research and education resource center, and a Board Member and Advisor at Higowell, the world's first health tourism operations platform. She has been recognized as an Academician with the Ukrainian Academy of Rehabilitation and Human Health and is a member of the Scientific Committee of Termatalia in Spain. She is also a Board Member at Global Health Connections, a nonprofit organization associated with the University of Colorado MBA-HA program. She is the author of 15 internationally-published business improvement books in healthcare administration and health tourism. 
Invite Dr Todd to speak at your next event.  She presents a compelling workshop of interest to tourism and economic development officials, foreign investors, healthcare strategists, and suppliers on Opportunities for Economic Development through Inbound Medical Tourism Sector Development.